Discover how I save time each day.
I have a fridge magnet at home that says: "I save my husband lots of money, I never miss a sale!". And I've been thinking that I should make my own that reads: "I save time in my business each day, and so can you!".
One of the messages I promote to other business owners is to review all tasks and then either: Delete. Keep. Delegate. Outsource. Automate.
What does it mean to save time?
In business, we can be caught up in the activities we undertake and may be easily distracted in the process. This could mean that an 8-hour work day may only produce 2 hours of productive work.
Astounding, isn't it!
Therefore, my message is important so you can focus on income driven tasks for your business and focus on your sales growth. Understanding where you spend your time and when, means you can make a conscious decision to save time.
What is one way I can save time?
Automation may be a bit foreign to you but in fact, it's one of the crucial steps in order for processes (tasks) to automatically take place, and save you time!
It can be the most simplest of things, but it all adds up! In one program alone, I saved 24 hours of work in 7 months:

And, I haven't used it to its full potential; imagine if I had been! How did I do this?
The "zap" – which Zapier calls the tasks that are set-up by you to automatically take care of the processes for you – run in the background as you function in your daily business routine. It will recognise what you're doing in the programs you've enabled, and it will automatically trigger/create the zaps on the back of that trigger.
Zapier does the work for you so you don't have to do it yourself. Saving you time, and money!
The benefit of creating zaps is you can work as "usual" during your day and in the background, other tasks are being taken care of without you having to do it yourself. Without you having to think about it. Without you having to switch or log into programs to complete them.
Sounds good, right? Well, it is!
You can get started with Zapier today. Your first 5 zap creations are free, so go see for yourself.
Zapier has hundreds of programs that integrate with each other in some way. They have common zaps set-up as templates which are ready for you to get up and running in under 5 minutes. You also have the ability to create your own 2-3 step zaps to perform tasks that you don't have time for or can easily be run without input from you.
My question to you is: if you know you spend countless time on processes you don't necessarily need to do in your business, will you implement change that will do the tasks for you and save you time?
I'd love to hear from you if you decide to go ahead and try it, comment below and let me know. 
Here's another way I save time: CloudApp.
This is a great tool to use if you need to keep a copy of something from your computer screen, by creating screen snapshots.
CloudApp is not only great for easily taking a screen snapshot, and have various functions available to you, but it also sends you a weekly email to say how many "drops" you've done and how much time you have saved in the process.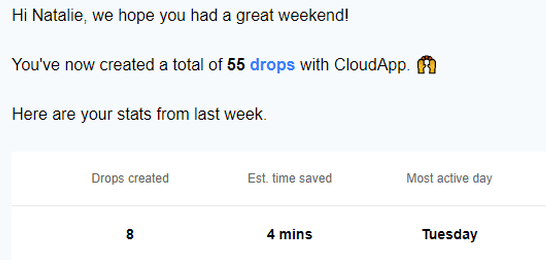 Bonus tip: Toggl.com
Do you know how much time you spend on every task throughout your usual workday? If not, then I recommend you sign-up for a free Toggl account and time track everything you do – from checking emails to phone calls to document work – for a week or 2 and then go back and review what you've done during that time and how much time it took.
You may be surprised at the results!
Ready to save time and learn more? Comment below or connect with me.
There are other areas to save time and tools to utilise to help with the saving of time. To identify your tasks and prioritise them, click here to access my free planner.